[PODCAST] Avoid Becoming a Netflix Docudrama: A Discussion on Nonprofit Sector Ethics
March 26, 2022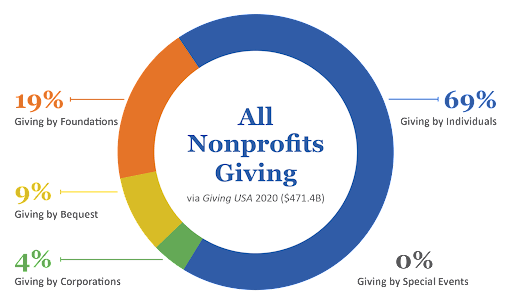 Diversifying Your Nonprofit's Revenue: How You Slice the Pie Matters
April 1, 2022
For the most part, nonprofits know how to spend money wisely because most of it have so little of it. And, what we do have is hard earned. Whatever you spend, you need to raise. Stewardship is more than an honorable notion; it is a way of life for the mission-minded. So, with all that honorable frugality in mind, is attending nonprofit conferences a worthwhile investment?
Stepping over dollars to pick up dimes
The obsession with not spending can be costly. Especially when it comes to time and innovation. While the financial and time investments tied to nonprofit professional development warrant serious consideration, too often they're seen as roadblocks. Famed business management expert Peter Drucker stated there are only two functions of a business that produce results: marketing and innovation. It's hard to do either in a vacuum. The best way to be inspired and hear about cutting edge technology, public relations and marketing is to go to places where they're discussing those things, i.e., most nonprofit conferences, and most certainly Cause Camp. 
You get what you pay for
The rise of the virtual event was coming even before the COVID-19 pandemic. It just sounds so good, right? Top speakers, totally free, oh…but…you have to be on Zoom for eight hours straight. Don't kid yourself. You probably won't actively listen to a third of the sessions and you definitely won't watch them all on-demand. The best of intentions aside, these free for all events too often are lead capture tools aimed at your email address. It's certainly worthwhile to sign up if there is a speaker or topic that you're specifically interested in, but keep your expectations realistic. While online education can/should be engaging (hello…Nonprofit Hub's weekly webinars are THE BEST:-), they can't replace in-person networking and designated time away from the office. 
Stepping out of the office
Speaking of which…Getting away is an often overlooked silver lining of nonprofit conferences. Is there anything more exciting than turning on your "out of office" email response? You need education and inspiration, but if you've been in the sector long, you need and deserve time away to recharge, too. Among peers, free coffee (make sure they have free coffee!), a new town, some fun swag, and thought leadership is a pretty fantastic way to do it. 
A small caveat…If you're going to step out, make sure you truly step out. Don't check email every ten minutes and certainly do not work during the conference. An investment in a nonprofit conference pass should have major ROI. Make sure your investment of attention, focus, and networking compares to the ticket price. You won't regret it. 
Making the case to supervisors and boards
Asking permission or for budget allocation for nonprofit conferences (for anything, really) isn't fun. In fact, it can be daunting. Here are some things you can do to prepare a compelling case for support for your nonprofit conference excursion:
Commit to showing a return on investment through programmatic or marketing changes and innovations over the year. If there's no ROI, you'll choose an alternative professional development solution next year.

Suggest a debrief session where you share your learnings with your teammates. 

Research what companies and vendors will be exhibiting and see how they align with any tech, product or service needs your organizations has. 

Research similar organizations in or around the city where the conference is located. Suggest meeting with these peer organizations before or after the event. 

Look into team passes and suggest the conference be used as a team building event in addition to the educational benefits. 
You've attended a nonprofit conference. Now what?
There's nothing better than the high of having new ideas, new peers, and a whole of inspiration. There's also nothing worse than returning to the office to face piles of messages and new work.  You rush back into the day-to-day and manage to forget everything that wooed and inspired you at the conference over the span of 24 hours. At some point, likely years later, you'll clean out your car or desk and find the program or swag notebook you filled with fantastic notes and business cards and you'll sigh.
Or, not. Seek out conferences that are built for meaningful retention and relationships. Here are a few things we do at Cause Camp to make sure every attendee doesn't lose the energy or ideas they find at camp:
Cause Camp uses a program app so attendees can easily exchange contact information, documents, ideas, and more. You can also access presenter's info and presentations for months after the event. 

All attendees get a free one-year membership to the Cause Network, the professional development and membership platform of Nonprofit Hub. Attendees can rewatch their favorite Cause Camp sessions (or, share them with their team during that recap session) as well as access the complete libraries of Nonprofit Hub content. They can also network with their new conference buddies. 

The only thing that overwhelms you at Cause Camp is the fun. We try to balance educational content with happy hour networking and live music so you return refreshed and energized for the day-to-day.
The post The ROI of Nonprofit Conferences appeared first on Nonprofit Hub.