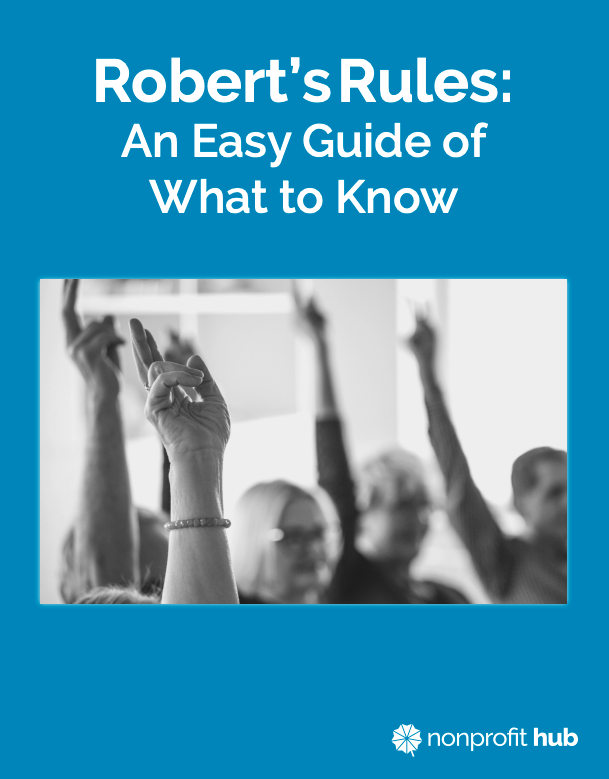 Robert's Rules Guide
October 28, 2021
[PODCAST] Flipping the Narrative on Strategic Planning
October 30, 2021
Life has a way of demonstrating to us that we can do things we previously thought impossible. The COVID-19 pandemic and the pivot to a virtual work environment for the nonprofit sector is case and point. While not every nonprofit organization can sustain operating in a remote fashion, many have realized the benefits of introducing hybrid workflows for their team. Space to focus, flexible schedules, and the simple joy of your favorite coffee mug are just a few of the perks of working remotely. But, it's not all pajama pants and home-cooked meals for lunch. There are real and impactful considerations to make when building a remote or hybrid culture for your nonprofit team. 
The Grass is Always Greener
The old adage of "the grass is always greener on the other side" has run true for many that made the shift to remote or hybrid work. The things we dislike in the typical nonprofit office environment—i.e., chatty office mates, rigid office hours, and unexpected visitors—may end up being the things we miss the most. The lack of social connection can be extremely challenging for remote employees. That volunteer that pops in five minutes before meetings or the coworker who exudes eternal sunshine at 8AM on Monday mornings will be missed when you haven't had a regular conversation outside of Zoom for days. 
The flexibility we crave with remote work can also be a double-edged sword. Without distinct office hours, many reduce their work (and productivity) to dangerous levels. Others go too far in the opposite direction, working all hours of the day and night simply because they're set up to do so. Both extremes lead to situations that are harmful—both for organizational and employee health. 
Setup for Success
Setting your team up for success in a remote or hybrid environment includes addressing everything from policy and expectations to equipping employees to succeed. Remote work is not comparable to a sick day where you might answer just a few emails from home. Your organization should plan for equal or increased productivity and communication when making the shift to remote work. Here is a short list of bases to cover when outlining what your remote work policy looks like:
Active Hours | Are team members required to work any specific hours?

Technology Policy | How will your team make use of and care for organization-owned technology?

Communication Platforms/Response Times | How will you communicate and how often?

Security | What software or systems will you use to protect donor and client data?

Eligibility | Is remote work a privilege or requirement?

Accessibility | Do your team members have the right equipment and wifi access to enjoy success at home?
More Hours Doesn't Mean More Accomplished
Studies show that employees who work remotely average 1.4 more days of "work time" each month, but that stat doesn't mean the "work time" was fruitful. 
We've all been there…You've stared at a donor's name, board report, or budget for hours, but all that staring has produced nothing. You're drawing blanks. Often, this void of productivity is worst when we designate time to accomplish a specific task. All the space in the world only creates more space…white space.
The irony is that, in an office, these blocks are often broken by an interruption or a conversation with a coworker. A break from our intended project helps us refocus when we return to it. Similarly, bouncing ideas with a collaborative counterpart helps us solve the problem. While these things still happen in a remote environment, they are less likely to naturally occur. Joe isn't going to interrupt your home Zoom meeting to see if you want to grab lunch and Jane probably won't lean on the door jam of your bedroom office for a morning chat. (Let's hope not, at least.)
How can your nonprofit team stay motivated and break up the isolation? Here are a few of the favorite practices and tools:
Morning high five

| A 5 to 15-minute meeting to kickoff the day and set priorities. 

Be video-ready during core working hours

| Whether by Zoom, Slack or Teams, there is value in being available to jump on a video chat without having to worry about how you look. 

Using an "active" setting

| Most communication platforms feature a setting where team members can mark themselves as "active" or "busy." Encouraging your team to update their status when they're available for collaboration or questions fosters strong communication and support. 
It's Not for Everyone
It's a hard truth to accept that not everyone may work out in a remote work environment. Just as some people require silence for focus or physical movement in their daily tasks, some employees' work styles or home situations aren't conducive to working remotely. It's critical to have candid conversations when issues arise. Make sure to recognize what constitutes a reasonable accommodation for helping team members achieve success remotely. 
In many ways, hybrid work models in light of the pandemic created a healthy balance. The perks and the struggles of both in-person or remote work are managed by splitting the work week between home and the office. If your employees are struggling with one or the other, try implementing a hybrid work structure and allow them to experience both. Of course, be sure to go over expectations and set up clear communication strategies beforehand.
In-person, hybrid or remote structures won't work for everyone on your nonprofit team. But if there's anything we all learned in the past year and a half, it's the importance of flexibility. By keeping an open mind for what works best for your organization, you can better serve your team and your mission.
The post Building a Successful Remote (or Hybrid) Nonprofit Team appeared first on Nonprofit Hub.